Date: Thursday, 27 October 2022
Category: News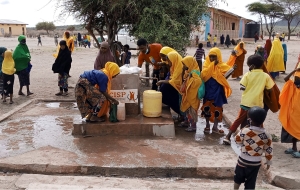 Food crisis in the Horn of Africa The Countries in the Horn of Africa are experiencing one of the worst food crises of the last 70 years, with devastating impact on the food security and nutrition status of over 20 million people living in the vast area between Ethiopia, Kenya, and Somalia.

The food crisis is the result of a series of consecutive below-average rainy seasons. Furthermore, the most recent projections forecast for the next rainy season (October to December 2022) a significantly below normal rainfall across the region. The already drought affected areas of Somalia seem destined to the extremely critical condition of famine.
Date: Wednesday, 12 October 2022
Category: News
José Rodríguez, a graduate in restoration of movable and immovable cultural heritage, was born in the state of Falcón, in the northwest of Venezuela.

He arrived in Ecuador on 11 May 2019, a day that, like every person forced to migrate, he remembers very well. That's the day he, along with his family, entered an unknown world.